Hi All,
Not a dev here but it would seem my web developer is terrible and cant solve this.
I keep getting this error message when trying to launch the Jobs board.
Application initialization failed, please check your app.json file: Http failure response for
https://www.technologysmart.ca/wp-conte ... p/app.json
: 404 Not Found
My cpannel looks like this

I cant see it anywhere. Anyone point me in the right direction. Bullhorn live chat didnt help at all. just pushed me to get web development help from expensive partnered vendors.
I downloaded the github files and they looked like this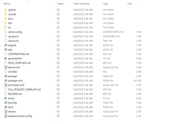 but then my cpannel in godaddy wont let me upload it. just lets me do a file at a time not a full folder.
Im so lost